You might have noticed that we have a new blog button! This is a great tool to link up to us from your family's blog or a learning blog of your own so we can all stay connected and share ideas.

If you want to, you can copy and paste the code for it and add it to your blog.
If you have blogger:

Go to layout > Add Gadget
Then you click on HTML/Java Script
Then copy and paste the code in!
When people click on the button, it will take them to our blog.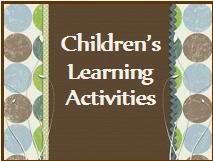 "